A new theatre company dedicated to farce and previously undiscovered comedy.
DOG ATE CAKE is all Henry Bell's fault. Back in 2006 he was directing the Philipe Mecredi translation of George Feydeau's "A Flea in her Ear" – at this point he realised that farce was not only a great way to make people laugh, but also a splendid audience leveller. 'You can't be pretentious with a farce' he thought, 'otherwise people don't laugh – and you look like a tit.'

Fast forward two years and Henry stumbled across countless one act Victorian farces. Some of them were a steaming pile of nonsense but a lot of them were tremendous fun. They were also written at the last moment in British theatre when characters and actors spoke, played with, and occasionally tickled the audience - a few years later those bloody Scandinavians convinced us to put up a fourth wall.

Mr Bell persuaded Mr Sheader of Regent's Park Theatre to let him use his rehearsal space for two weeks to workshop actors, ideas and lots of one act farce. Here the DOG ATE CAKE Company was born and the core of the company remains the same from those two weeks spent in the park.

Using new found farcical techniques, hitherto unknown to theatre makers, DOG ATE CAKE rehearsed secretly in a small room on Eel Pie Island (where the Mystery Jets recorded their first album.) They eventually found a home at the Canal Cafe Theatre where they performed two farces in February and March 2008.
Success, alcohol and tapeworms led to a yearlong sabbatical which is soon to be broken with two new Victorian farces to be performed in April and May 2009.

DOG ATE CAKE is enjoying life at the Canal Cafe Theatre. However, like pointer dogs chasing a pheasant across a dew laden field, we have our noses aimed forward and eyes set to the future. Using our continued exploration in Little Venice we aim to compile a double bill extravaganza to put on an extended run in London and across the UK.

Also, we are sniffing out the silliest and most obscure festivals where we can ply our foolish trade. If you are one of these festivals, get in touch and we will merrily hump your leg.

Even further ahead we want to kick-start a new generation of farce writers - if you are that way inclined, please come to our next show and we'll give you a biscuit. Woof, woof.
You can always contact DOG ATE CAKE at: info@dogatecake.co.uk

Please join our group on: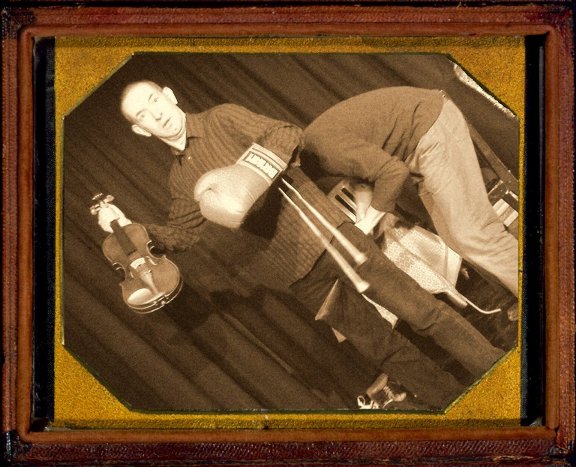 A Daguerreotype Photograph of "How Stout You're Getting"
[A violin, Mark Starr, a Boxing Glove and Richard Hollis' unplumpified body.]